Welcome ...

... to OSU Hessler, the specialist for sandblasting and arcspraying.

NEWS!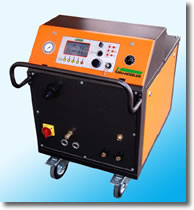 The New Standard of Electric Arc Spraying
With these new, completely programmable arcspray power sources OSU-Hessler defines a new standard for thermal arcspraying.
Till now arcspray equipments on the market were equipped with fixed invariable characteristics. The all new advanced power sources offer the possibility, to apply all current-/voltage modifications completely free, even during the spray process; the possibility to vary all spray parameters leads to completely new high quality layers (optimized adhesion and extremely fine layer structure).
The main advantages are:
the with LCD Display equipped control panel makes this equipment very easy to use
all optimized spray parameters for most wires are already memorised
changing all spray parameters during the spray process is possible
finer layer structure even with less compressed air, this helps reducing the costs
better adhesion
the new performance conception does grant even with lowest voltage a constant arc and best melting behaviour
continuous safe spraying with extremely low capacity is possible
prepared spray programs can easily be copied, duplicated and transferred to other equipments.
possibility to define separate spray parameters for start and stop of the spray process grants
perfect layer structures
compatible and optimized for our reliable sprayheads type anti-COR, LD/U-2EM, LD/U-2HEM and Push-Pull
will also be the new standard for use in automated spray processes, with the integrated interfaces adaptation of spray parameters to every single production proc-esses is no problem
For more information please download following PDF-file: